JANUARY 29, 1948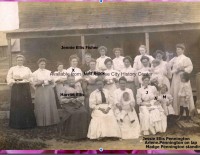 Synopsis of the Interlochen Woman's Club
This was taken from a synopsis by Marjorie Hammes, Past President
In 1948 Mrs. Saxton assisted by Mrs. Steed and Mrs. Conrad entertained a group of ladies at a luncheon, during which time the idea of organizing a Woman's Club was advanced and discussed.
Those present were Mesdames Steed, Conrad, Saxton,Clements, Wedge, Lucas, Dafoe, Buller, Gippert, Burrows, Howard, Livasy and Pennington.  These ladies comprise our charter membership today.  Lucille Steed was elected the first president.
The club was originally named "Help-A-Bit" club but was soon changed to the Interlochen Woman's Club. The club pledge was presented by Marjorie Hammes and adopted in 1955. 
Because of the fact that meetings were held in members'  homes, membership was limited to 25.  This continued until 1955 when membership became open when the club was offered the use of the Green Lake a Township Hall.  In 1955 they had 83 active members and 4 life-time members.  Today we have over 40 active members and 7 life members.
Under the leadership of Bess Moore we became federated in 1951 and have been active in all Federation projects. We have been awarded 12 "Club of the Year" awards, 6 "Clubwoman of the Year" awards, (Ruth Hunter, 3 times), "Mrs. Federation", numerous merits and ribbons for Arts and Crafts,Photography, Conservation, Education, Scholarships, Public Affairs, Legislation,  Mentally Handicapped and many others on Community and National levels.
In 1977, Marie Cotter undertook a project of inspiring interest in raising funds a much-needed Senior Center.  We now have a much needed "Civic Center" housing the "Golden Fellowship"" and the Interlochen Library, Marge Dilley spearheaded the movement and a room was named in her honor.  The building was dedicated to the memory of Cornelius Bukema (husband of one of our members) who worked diligently on behalf of the seniors.
The Senior Center and Library  no longer are at the Golden Fellowship Hall.  The library built a new facility on Tenth street across from the township and fire department and the Senior Center is housed at Redeemer Lutheran on 31 near the corner of 37/31.